Your network for food logistics across Europe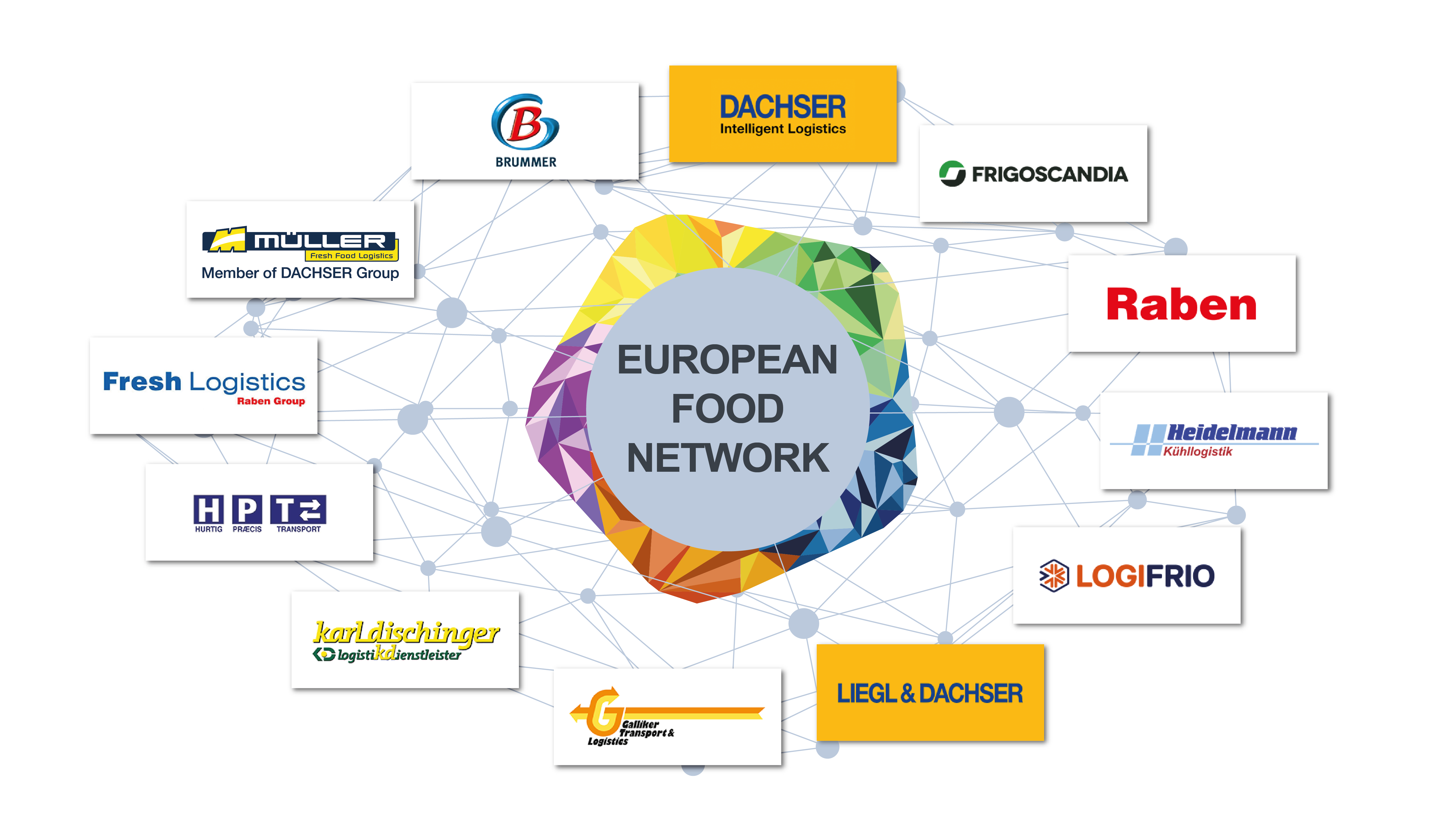 H. P. Therkelsen A/S is an active partner in the European Food Network, contributing at European level to a wide range of logistics services. The network partners are mostly independent family businesses, which together form this high-performance logistics network.
The partners are pooling their logistics services under the umbrella of the European Food Network. General cargo shipments are delivered to selected delivery points in 34 European countries.
We work quickly, reliably and with high frequency, and strictly follow the established schedule. A total of 23 members ensure access to a unique network coverage for general cargo shipments in Europe for manufacturers, ancillary industries and commercial companies in the food sector.
For us in H. P. Therkelsen A/S as well as for the other partners in the European Food Network, safe transport of your goods is of utmost importance. To meet your expectations for punctual, complete, undamaged and hygienic delivery of your products, the partners have established a comprehensive list of rules and strictly adhere to these quality standards for food transport. In addition, the network ensures a smooth and traceable flow of goods across Europe.

Transport of bulk consignments for the food sector –
European Food Network covers the whole of Europe
European Food Network can serve customers in most of Europe thanks to its expertise in the delivery of temperature-sensitive bulk shipments.
In addition to the central European countries (Germany, Austria, Switzerland, Liechtenstein, Poland, Czech Republic, Slovakia, Hungary, Slovenia), France, Benelux (Holland, Belgium, Luxembourg), Italy and the British Isles (UK, Ireland), the network also serves customers in Scandinavia (Denmark, Norway, Sweden, Finland), the Iberian Peninsula (Spain, Portugal), the Balkans (Croatia, Bosnia and Herzegovina, Serbia, Montenegro, North Macedonia, Bulgaria, Romania, Greece, Turkey) and the Baltic States(Estonia, Latvia, Lithuania).
Contact the European Food Network or find more information about the network here ".
Overview of logistics services:
Overview of the partners of the European Food Network:
Müller Fresh Food Logistics serves the Netherlands in the European Food Network
Frigoscandia is responsible for Sweden, Norway and Finland in the European Food Network
BRUMMER covers the Passau region in Germany as well as Austria and Slovenia in the European Food Network
DACHSER France is responsible for exports from France
DACHSER Italy is responsible for Italy
DACHSER SE serves Germany and Luxembourg, the Vorarlberg region in Austria and export activities in Switzerland and Belgium
Fresh Logistics, a member of the Raben Group, is responsible for Poland, Estonia, Latvia and Lithuania in the European Food Network
Galliker covers Switzerland and Liechtenstein
Heidelmann is responsible for the Hesse region in Germany in the European Food Network
Karldischinger serves the German regions Black Forest and Hochrhein as well as Alsace in the European Food Network
LIEGL & DACHSER is responsible for Hungary
Logifrio covers Spain and Portugal in the European Food Network
H. P. Therkelsen A/S is responsible for Denmark in the European Food Network
Raben is responsible for the Czech Republic in the European Food Network